About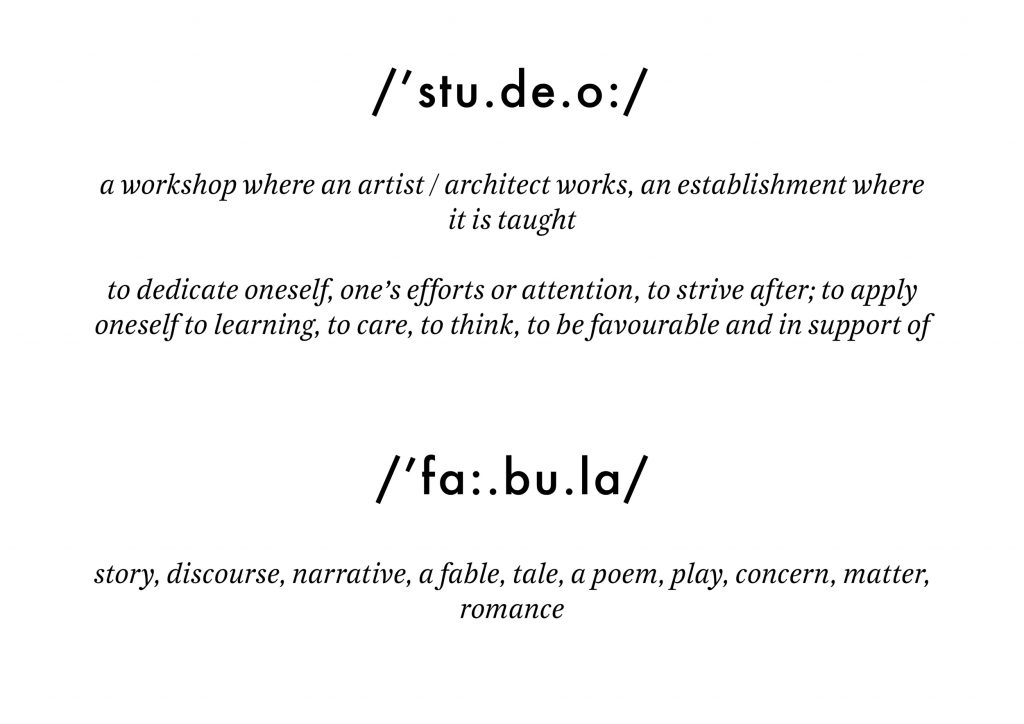 Studio Fabula thinks about space through drawing and writing.
…
Studio Fabula is an architectural workshop which focuses on spatial discourse, stories, narratives, tales, fables, poems, plays, concerns and matters.
…
Studio Fabula investigates spatial themes through a flexible structure of collaborators, which join together depending on their expertise, interests, and the needs of a specific endeavour.
…
Studio Fabula's favourite tasks encompass multiple scales – be it the form of masterplan visions, architectural and urban strategies, design-based research, interactive and spatial knowledge platforms, exhibitions or books – these tasks which allow us to apply our narrative-based approach and create proposals which define and integrate various voices and interests through the scales of different users and stakeholders.
…
Studio Fabula believes that common sense doesn't have to be boring. The best solution does not have to be the most complicated one – we believe in simplicity and clarity – but that does not mean the absence of fun and innovation.
…
Studio Fabula puts an emphasis on visual and textual communication. Today's projects involve a multitude of actors whose voices, although often equally relevant, are not equally heard. We use a streamlined conceptualisation, communication and presentation method which keeps all involved parties informed, included, and up-to-date.
…
Studio Fabula has a rich experience on various spatial scales, with international projects for local authorities, businesses and private clients, and has worked with other architects, urban planners, architectural offices and educational institutions.
…
Studio Fabula was founded in Delft and is currently based in Zagreb. It is led by Jana Culek, a multitasking architect, urban planner, researcher and illustrator. Jana was based in the Netherlands from 2014 to 2023 where she moved from Croatia in order to follow a post-master programme at the Berlage Center for Advanced Studies in Architecture and Urban Design. She has gained professional experience working for Zagreb based Urban Planning Institute of Croatia, and for the renowned Dutch office KAAN Architecten where she worked on projects such as the New Amsterdam Courthouse and the new Amsterdam Schiphol Airport Terminal.
Parallel to working in practice, Jana has remained an active participant in the academic sphere, currently teaching at the Rijeka based Urban Studies postmaster specialist program, led by DeltaLab Rijeka. She also continues her contacts with both the Berlage and the Faculty of Architecture in Zagreb, where she participated yearly in the lecture series "Architects on Architectural Drawing". From 2018 to 2022 Jana has been an active member of the Chair of Methods and Analysis at the TU Delft Faculty of Architecture and the Built Environment, where she worked on her PhD dissertation, researching utopias as a critical method in architecture and literature. As an external tutor of the Chair, she took part in teaching various courses of the master programme. During her time at the Berlage, and now as a part of Methods and Analysis, Jana has participated in various exhibitions, workshops and events either as a designer, a part of the organisation, with her work, or as a guest speaker or critic. She continues to pursue the combination of practice and academia in her work as it allows her to constantly examine the role of the architect and the tools and methods through which we can operate.
For any inquiries or commissions please contact at [email protected]