Hof van Lent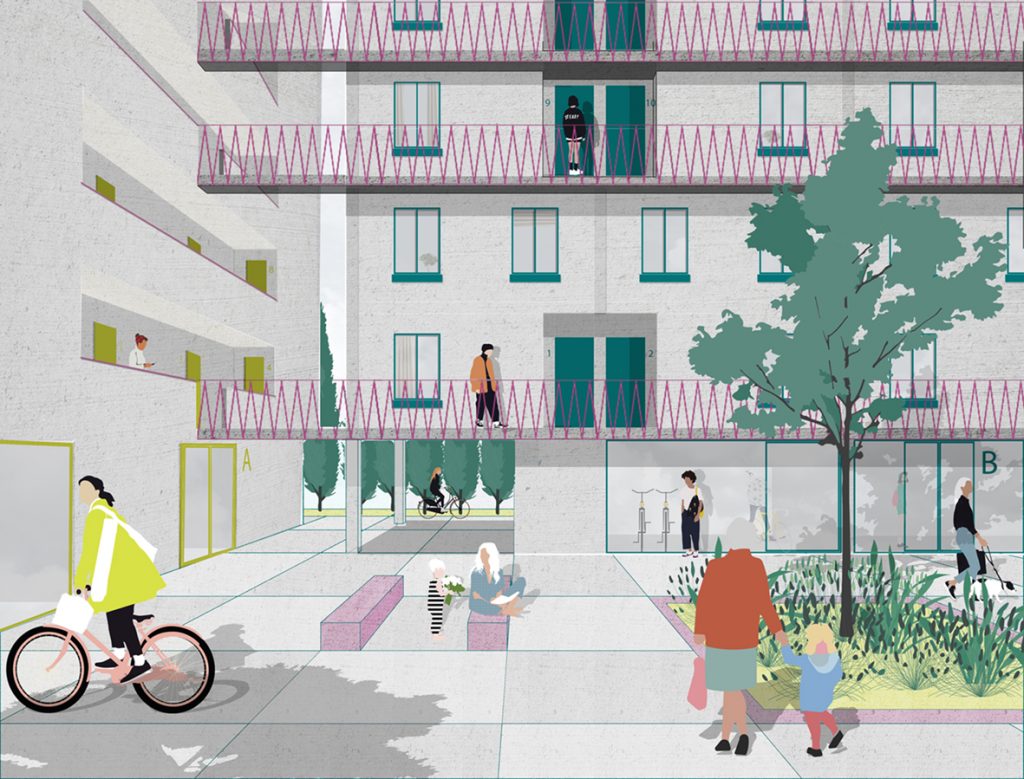 Coauthor: Lianne Klitsie (Instill Studio – https://instillstudio.eu/)
The Hof van Lent housing block is located at Hof van Holland, on the head of the central axis that connects the station area of Nijmegen Lent with De Oversteek in Nijmegen-Noord. In addition to the housing block, the site plans to house a school and a sports hall.
To ensure a pleasant urban character, a large square is provided at the head of the axis. This square is multifunctional: it is used both as a public square for weekend markets and relaxation and as parking space while picking up and bringing children to school.
The school building is located on the west side of its plot and focuses on both the square like the water. On the west side, a green strip connects the school to it apartment complex. Designed as a pedestrian friendly neighbourhood, the site of the apartment complex is car-free.
The building complex consists of four wings of 6 and 7 floors high respectively. The four wings embrace the courtyard, which is in direct connection with the square in front of the school and crosses to the green strip to the west of the complex. The plinth features two small-scale commercial functions on the tips of the wings.There are also indoor bicycle shed on the ground floor, spacious entrances with mailboxes, external storage and the necessary technical spaces.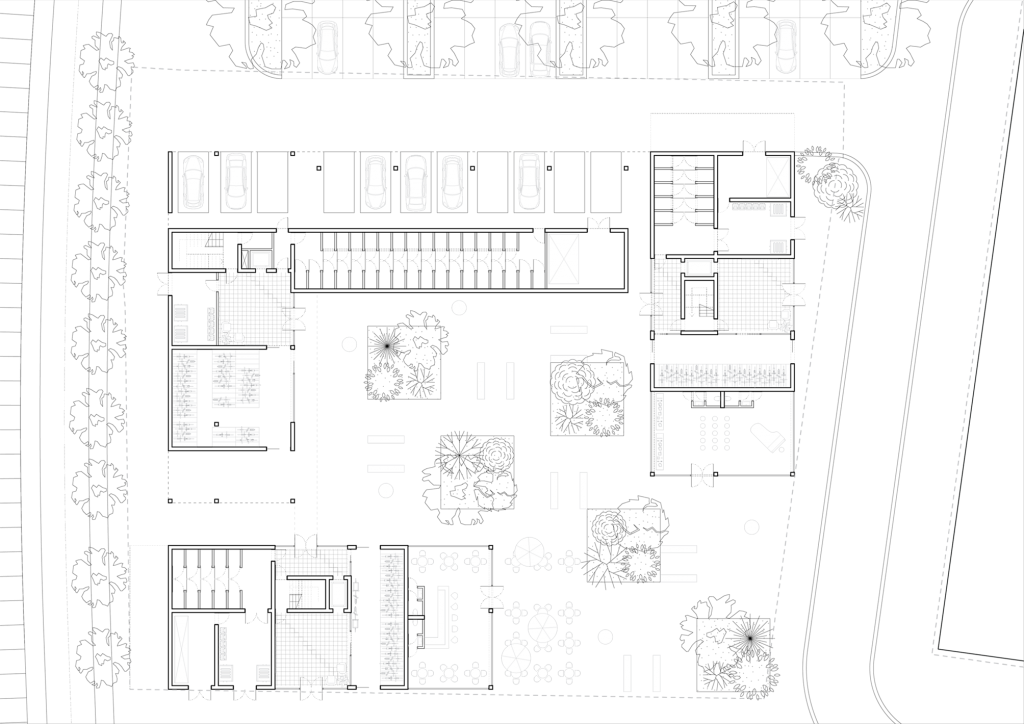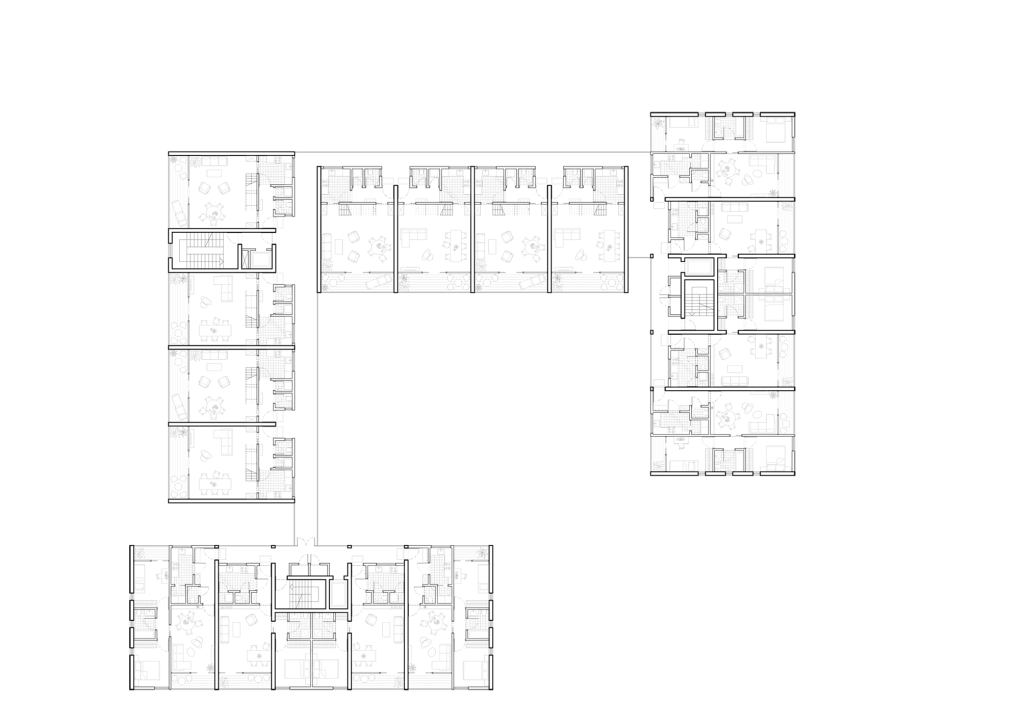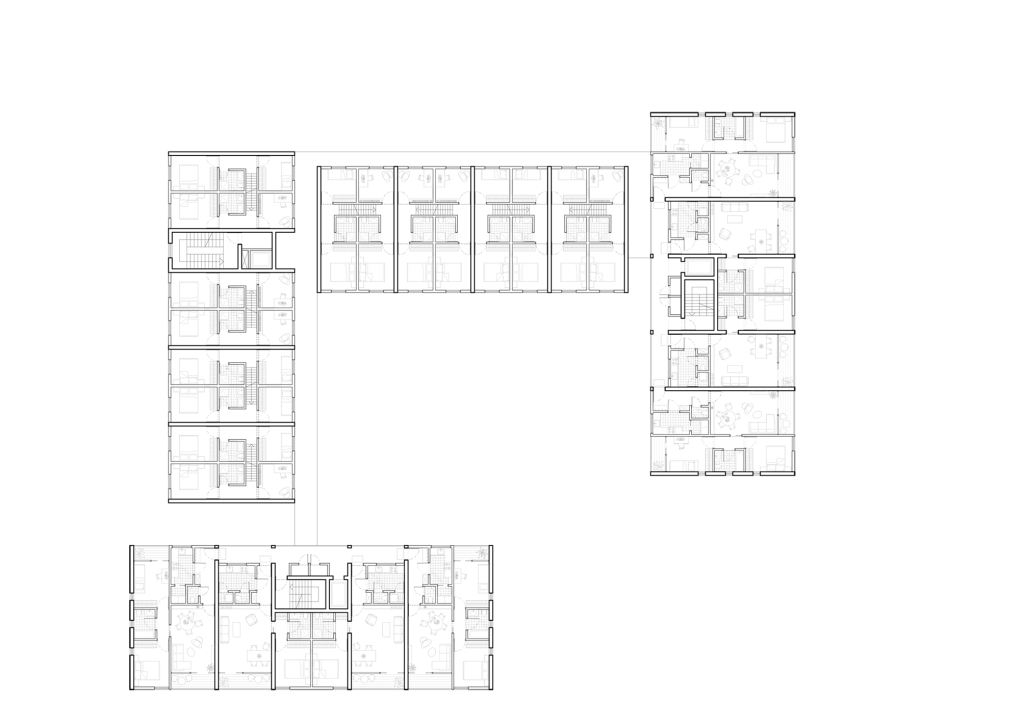 The apartment types are designed in such a way that they can accommodate more than one inhabitant type. There are three main apartment types. Type 1 is designed as a one-level apartment with two bedrooms. It is designed as an apartment for one inhabitant or a single parent with one child. The second bedroom can be used either as a child's room or as an extra bedroom for when the grandchildren come to visit. Type 2 is designed as a single bedroom apartment. This type can also accommodate a single occupant household or a couple without children. This type does not provide an extra bedroom, but the size of the living space is more generous. This apartment type also has a designated storage space on the same floor. Type 3 is a two level apartment with two sleeping rooms. This type can accommodate all three types of inhabitants. While one bedroom is designed as the master bedroom, the second room can be either a child's room, a room for grandchildren or a work room which can be used by one of the inhabitants.
The flexibility embedded in the design of the apartments allows for customisation of use based on the user. It also provides with interchangeability where each apartment type can be used by multiple types of user.